Malaysia Debt Ventures Berhad (MDV)
Malaysia Debt Ventures Berhad
, abbreviated
MDV
, is a technology financier company in Malaysia, wholly owned by the
Ministry of Finance Incorporated
.
Logo of Malaysia Debt Ventures Berhad (MDV)
Incorporated in May, 2002, Malaysia Debt Ventures Berhad is a government linked company under the purview of the
Ministry of Science, Technology and Innovation, Malaysia (MOSTI)
.
Malaysia Debt Ventures Berhad provides project and contract financing specifically to companies in the ICT, biotechnology, green technology and advanced technology sectors through flexible financing solutions and specialized funding programs. It also provides trade and guarantee facilities required by the project or contract, through its partner banks.
Unlike venture capital companies such as
Malaysia Venture Capital Management Bhd. (MAVCAP)
, MDV does not invest in equity but offers financing or loan facilities.
MDV's financing solutions offers flexible repayment based on project cashflow and not fixed repayment, for terms up to 15 years depending on nature of financed project, with access to advisory, networking, business development and support services.
Its clients include early to growth stage companies.
The official website of
Malaysia Debt Ventures Berhad (MDV)
features:
Differences between bank financing and MDV financing


Loan Processing: Criteria, Fees and Application Checklist


Islamic Financing: Contract and Project Financing, Trade Line Facilities, i-Factoring, Premier i-Cashline, Letter of Undertaking, Letter of Support, Equity Linked Financing


Conventional Financing: Contract and Project Financing, Trade Line Facilities, Letter of Undertaking, Letter of Support, Equity Linked Financing


Programs: SME Green Lane Policy, Intellectual Property and Green Technology Financing Scheme, Commercialization Financing Program, SME Small Contract and Project Financing, Bumiputra Biotechonology and Bio-Industry Development Fund, Technology and Innovation Acceleration Scheme, MDV Technology Acceleration and Commercialization Scheme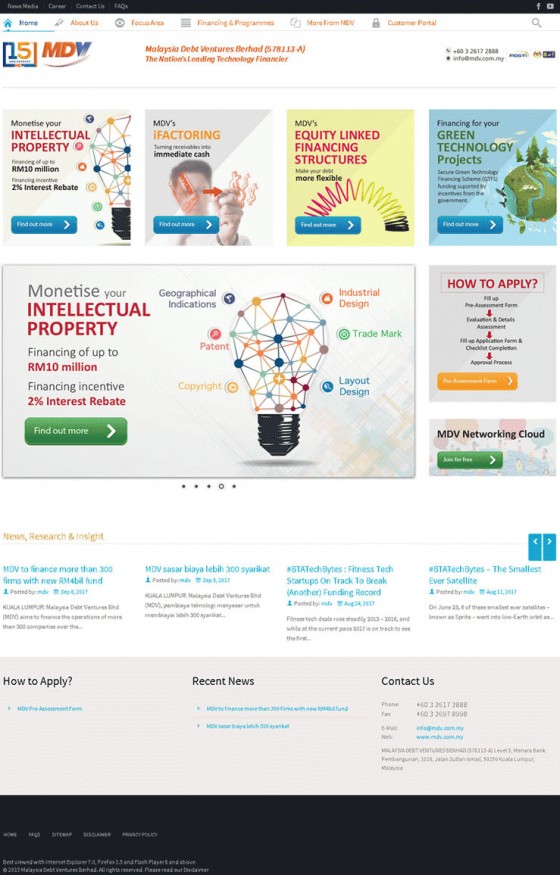 Screenshot of Malaysia Debt Ventures Berhad (MDV)
Share this page
Notes
Keywords
:

technology financier

malaysia

financing

ict

information technology

funding

venture debt

biotechnology

Guide ID: 3299 -

Last Updated: October 3, 2017