Penang Port Commission (PPC)
Penang Port Commission
, abbreviated
PPC
is also known as the
Suruhanjaya Pelabuhan Pulau Pinang (SPPP)
in Malay term.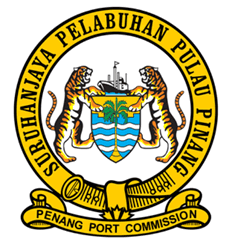 Penang Port Commission (PPC) Logo
Penang Port Commission was established on January 1, 1956 under the Penang Port Commission Act 1955 [Act 140], which provides for the establishment of the Commission and its relevant purposes.
It is a statutory body under the purview of the
Ministry of Transport, Malaysia
and is responsible for the administration of Port of Penang.
Penang Port Commission is also responsible for:
providing and maintaining ferry services in the port;


providing pilotage services within the limits of the port and the approaches to the port;


coordinating the activities of the port;


promoting the improvement and development of the port.


Port of Penang is an international port strategically located along Penang Strait on the northern Peninsular Malaysia. It consists of five (5) terminals namely:
North Butterworth Container Terminal


Butterworth Deep Water Wharves


Vegetable Oil Tanker Pier


Prai Bulk Cargo Terminal


Prai Wharf


Swettenham Pier


All the terminals offer a variety of facilities and modern equipment to handle containers, liquid-bulk cargoes, dry-bulk cargoes and general cargoes with the exception of Swettenham Pier.
Swettenham Pier was redeveloped into a cruise shipping terminal with the completion of the Swettenham Pier Cruise Terminal in November 2009. It is currently the busiest harbour in Malaysia for cruise shipping.
The operations of the port and ferry services at Penang Port has been privatized to Penang Port Sdn Bhd (PPSB) on January 1, 1994. Penang Port Commission continues to exist as a Port Authority, Regulatory Authority, a Port Resource Centre for the northern region and as the Administrator of the Free Commercial Zone (FCZ).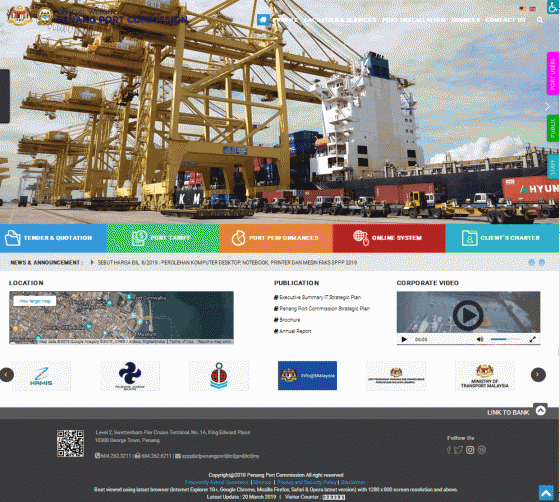 Screenshot of Penang Port Commission (PPC) official website
The official website of the Penang Port Commission (PPC) features:
Facilities and Services:
Penang Port Terminals and Wharves, Free Commercial Zone, Tanjung City Marina, Ferry Services, Ancillary Services, Penang Port's Crafts, Bunkering


Port Performances:
Annual Cargo Traffic, Total Container Traffic, Cargo Types, Ferry Services Statistics, Total Import and Export Cargo, Total Cargo Handled


Port Tariff:
Scale of Rates, Dues and Charges, Charges Payable by Vessels, Charges Payable by Consignee or Consignor, Charges for Usage of Marina


Online System:
FCZ Online, POLARIS System, PAN System, Dangerous Goods


Sources:
Tender and Quotation, Port Installation, Strategic Plan, Brochure


Share this page
Notes
Keywords
:

penang port

cargo

ferry

tariff

import

export

wharf

cruise

bunkering

teluk ewa

vessel

consignee

consignor

pelabuhan pulau pinang

kargo

dermaga

Guide ID: 2154 -

Last Updated: March 19, 2019