Ministry of Transport, Malaysia
Ministry of Transport, Malaysia
is also known as the
Kementerian Pengangkutan, Malaysia
in Malay.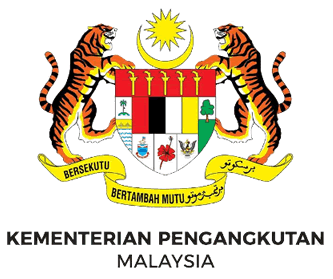 Logo of the Ministry of Transport, Malaysia
The Ministry of Transport Malaysia is entrusted with the formulation and implementation of land, air and sea transport policies to ensure an efficient, safe and effective transportation system in the country. It is also responsible for planning and executing national land, logistics, maritime and aviation infrastructure projects.
In 1951, a cabinet governance system called "member system" was introduced. Under the system, few members were appointed to administer several departments. Matters concerning road transport and civil aviation were placed under the jurisdiction of land, mineral and communication member. The railway and port members were responsible for matters pertaining to rail and sea.
In 1953, the railway, port and civil aviation as well as road transportation were placed under the purview of the members of transportation.
The Ministry of Transport was finally established in 1956. It was renamed the Ministry of Communications in 1972. In 1974, it was again renamed Ministry of Transport and Works. In 1976, the Ministry's name was reverted to the Ministry of Communications. In 1978, it was renamed the Ministry of Transport, which remains till today.
Departments and agencies under the Ministry include:
Statutory bodies under the Ministry include:
Railway Assets Corporation (Malay: Perbadanan Aset Keretapi)


Port Klang Authority (Malay: Lembaga Pelabuhan Kelang)



Johor Port Authority (Malay: Lembaga Pelabuhan Johor)


Kemaman Port Authority


Kuantan Port Authority (Malay: Lembaga Pelabuhan Kuantan)



Maritime Institute of Malaysia (MIMA) (Malay: Institut Maritim Malaysia)


Malaysian Institute of Road Safety Research (MIROS) (Malay: Institut Penyelidikan Keselamatan Jalan Raya)


Sabah Commercial Vehicle Licensing Board (Malay: Lembaga Pelesenan Kenderaan Perdagangan Sabah)


Sarawak Commercial Vehicle Licensing Board (Malay: Lembaga Pelesenan Kenderaan Perdagangan Sarawak)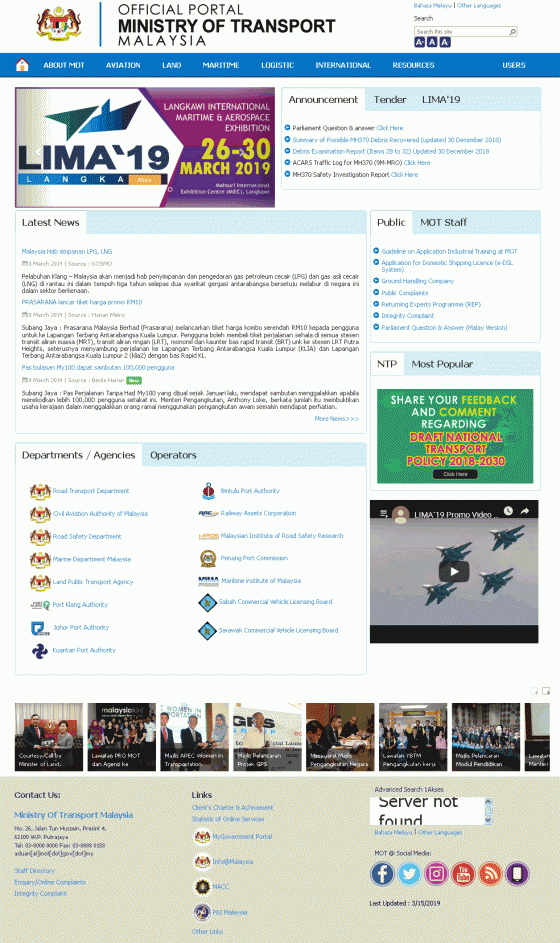 Screenshot of the Ministry of Transport, Malaysia official website
The official website of the
Ministry of Transport, Malaysia
features:
Road:
Safety Plan and Research, Road Transport Services, Standards Development and Technical Specifications Vehicle, Accident Road Death Statistics, Vehicle Inspection, Rail Land Development and Planning


Aviation:
Scheduled and Non-Scheduled Air Services, Rural Air Services (RAS), List of Airports and Ground Handling Companies, Safety Standards (Airworthiness, Aviation Security, Flight Operations, Airport Standards, Air Traffic Management), Air Accident Investigation (MH370 and MH17), Flying Training School


Maritime:
Location and Code of Ports in Malaysia, Maritime Safety, Cruise Shipping, Ferry Services, Ship Registry, Oil Spill Response, Aids to Navigation, Seafarers, Vessel Traffic System (VTS), Domestic Shipping Licensing (DSL), Project Development


Logistic:
Action Plan, Task Force


Share this page
Notes
Keywords
:

kementerian pengangkutan

mot

aviation

malaysia airports

road transport

rail

malaysia ports

shipping

maritime

domestic shipping

logistic

air

Guide ID: 2145 -

Last Updated: May 2, 2019