Board of Quantity Surveyors Malaysia
, abbreviated
BQSM
, is officially known as the
Lembaga Juruukur Bahan Malaysia (LJBM)
in Malay.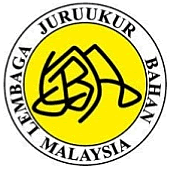 Board of Quantity Surveyors Malaysia (BQSM) Logo
It is a statutory body established under the Quantity Surveyors Act 1967 [Act 487].
Initially established in 1973 as the
Board of Surveyors
under the Registration of Surveyors Act 1967 and was responsible in regulating the quantity surveying and valuation professions in Malaysia.
In 1981, the Registration of Surveyors Act 1967 was revised as the Quantity Surveyors Act 1967 [Act 487]. As a result, the Board of Surveyors was renamed the Board of Quantity Surveyors.
The Board comprises of a President, a Registrar, and Members appointed by the
Minister of Works, Malaysia
.
Only qualified person, including sole proprietorships, partnerships and companies registered with the Board are allowed to offer Quantity Surveying services.
Continuing Professional Development (CPD) was implemented in 2003 and all quantity surveyors must participate and maintain records of their participation in the CPD to be eligible for registration with the Board.
The main functions of Board of Quantity Surveyors Malaysia are:
registration of quantity surveyors,


exercise and maintain discipline in the profession of quantity surveyors, and


ensuring that the code of professional and ethical conducts are complied with by quantity surveyors.


The main objective of the Board is to safeguard public interest and ensure the accountability and quality of services in the practices of quantity surveyors (QS), firms & bodies corporate practising as consulting QS whilst upholding the principle of value for money in the implementation of development and infrastructure projects.
The official website of the
Board of Quantity Surveyors Malaysia
features:
Defaulters and Reinstatements


Registry (Registered Consultant, Professional and Provisional (Graduate) QS, Registered QS Technologies, Temporary Registered QS, Registered Practices)


Recognised qualifications (Guidelines for advanced entry, Accredited degree programmes, Approved professional and sub professional qualification)


Registration (Registered QS and Provisional (Graduate) QS, Multi-disciplinary practices, Route to registered QS)


CPD application (Conditions and CPD Programmes by Others)


Targeted Processing Time of Registration and Renewal


eLibrary and Circulars


Online Registration and Renewal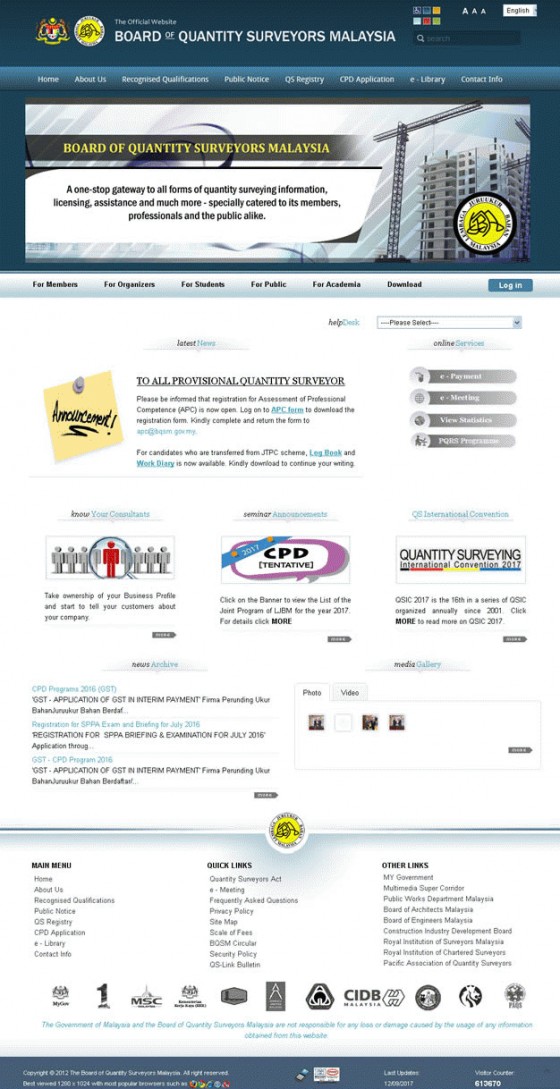 Screenshot of Board of Quantity Surveyors Malaysia (BQSM)
Address:
Board of Quantity Surveyors Malaysia
17 Floor, Block F
Ibu Pejabat JKR
Jalan Sultan Salahuddin
50582 Kuala Lumpur
Malaysia
Notes:
Website available in both English and Malay versions.
Website:
www.bqsm.gov.my/