Parliament of Malaysia
, commonly known as
Parlimen Malaysia
in Malay term is the highest legislative body in Malaysia.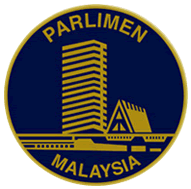 Logo of Parliament of Malaysia
Parliament of Malaysia represents the democratic structure of the government and reflects the people's aspiration through the elected representatives. It consists of His Majesty The King (Malay:
Yang Di-Pertuan Agong
) as the Head of State, The Senate (Malay:
Dewan Negara
) and The House of Representatives (Malay:
Dewan Rakyat
).
Each House is empowered to regulate its own procedure; each has exclusive control over its own proceedings, the validity of which may not be questioned in any court; and each House can penalize its members for breaches of the privilege or contempt of that House.
Parliament is the legislative authority for the Federation, making laws applicable to the Federation as a whole. It is also responsible for passing, amending and repealing acts of law, examining the government's policies and approving the government's expenditures and new taxes. Parliament also serves as the forum to discuss matters of public interest.
On August 31, 1957, independence was declared at Merdeka Stadium. Following the first general election after independence, the First Meeting of the First Parliament of Malay Federation was held on September 11, 1959 at Tunku Abdul Rahman Hall, Kuala Lumpur. It was an important event for the country as it was the first time Parliament of Federation of Malaya met with all its members.
On September 16, 1963, Malaysia was formed when Sabah, Sarawak and Singapore agreed to be part of Malaysia. Since then, the Parliament of the Federation of Malaya is known as Parliament of Malaysia. The date also marked another historical event when the Parliament session was held in its own new building on the 16.2 hectares land near to Lake Perdana.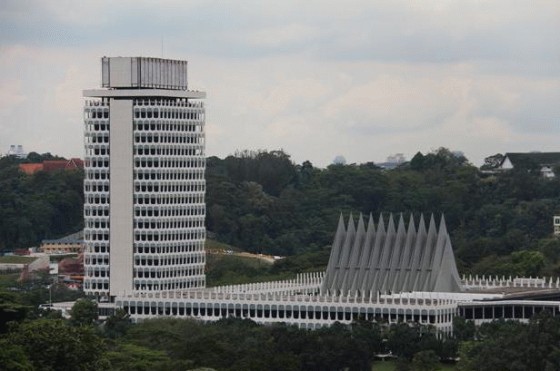 Parliament Building. Photo Credit: Parliament of Malaysia
The opening of the Parliament Building Complex, located at the Kuala Lumpur Perdana Lake Garden, was officiated on November 21, 1963.
The official website of the Parliament of Malaysia features:
His Majesty the King (General Info; List of His Majesty the King)


Senate & House of Representatives(General Info; President; Deputy President; Speakers; Deputy Speakers; Secretary; Members & Seating; Committee; Facilities; Order Paper; Calendar; Hansard; Bills; Statistics; Standing Orders; Acts)


Secretariat (General Info; Visiting Parliament; Photo & Video Gallery; Download Form; Library)


Online Services; FAQ; Speech Archive; Article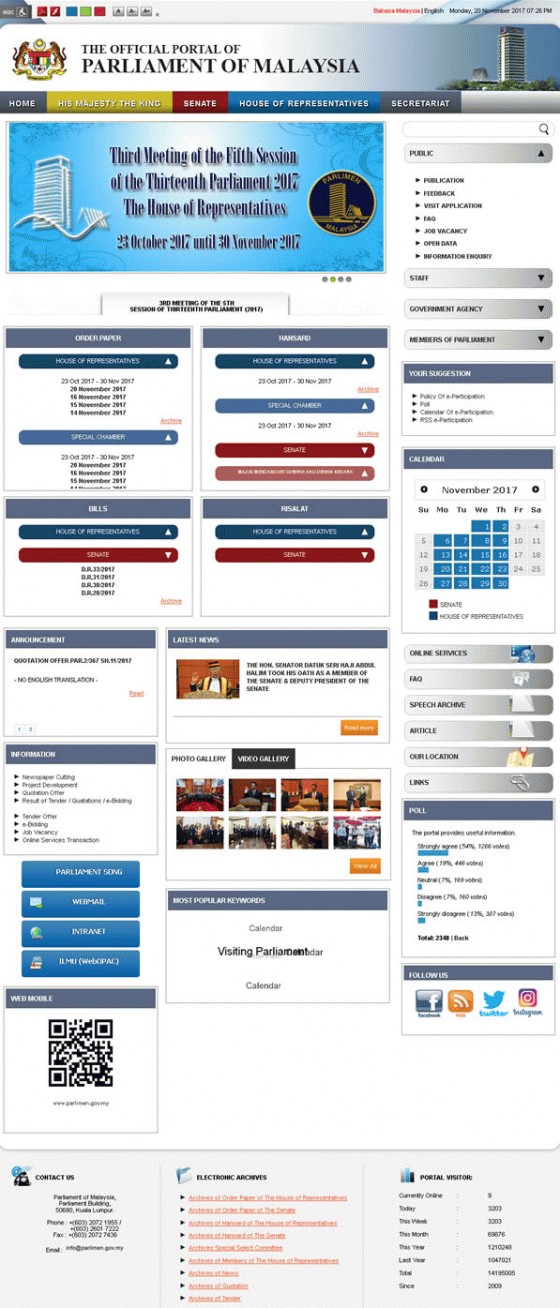 Screenshot of Parliament of Malaysia