Ministry of Water, Land and Natural Resources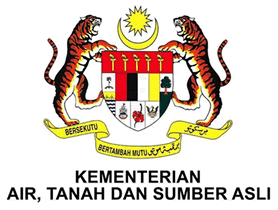 Logo of the Ministry of Water, Land and Natural Resources
The
Ministry of Water, Land and Natural Resources
is also known as the
Kementerian Air, Tanah dan Sumber Asli
, abbreviated
KATS
in Malay term.
The Ministry of Water, Land and Natural Resources is responsible for overseeing the management of water, natural resources, wildlife, minerals, irrigation, drainage, land, mapping and forest in Malaysia. It is also responsible for the administration of the marine parks of Malaysia.
It was formerly known as the
Ministry of Natural Resources and Environment (NRE)
.
On March 27, 2004, the restructuring of Ministries resulted in the formation the Ministry of Natural Resources and Environment (NRE) (Malay:
Kementerian Sumber Asli dan Alam Sekitar
), which undertook new departments, responsibilities and functions from four Ministries namely: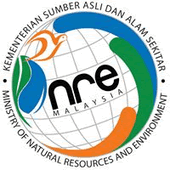 Logo of the Ministry of Natural Resources and Environment (NRE)
Ministry of Land and Co-operative Development (Malay: Kementerian Tanah dan Pembangunan Koperasi):




Ministry of Primary Industries (Malay: Kementerian Perusahaan Utama):




Ministry of Science, Technology and Environment (MOSTE) (Malay: Kementerian Sains, Teknologi dan Alam Sekitar):




Ministry of Agriculture (Malay: Kementerian Pertanian):




After the 14th General Election, the Ministry of Natural Resources and Environment (NRE) was again restructured on July 2, 2018, creating the
Ministry of Water, Land and Natural Resources
(Malay:
Kementerian Air, Tanah dan Sumber Asli
) from merger result of:
All new departments from four Ministries which were undertaken by the previous Ministry of Natural Resources and Environment (NRE) were absorbed into the newly created, Ministry of Water, Land and Natural Resources, with the exception of:
Climate Change Division; and



which were transferred to the
Ministry of Energy, Science, Technology, Environment and Climate Change (MESTECC)
(Malay:
Kementerian Tenaga, Sains, Teknologi, Alam Sekitar dan Perubahan Iklim
):
Screenshot of the Ministry of Water, Land and Natural Resources official website
Share this page
Notes
Keywords
:

malaysia government

ministry

water

land

natural resources

nre

kats

irrigation

drainage

wildlife

minerals

forest

conservation

mapping

land survey

Guide ID: 2090 -

Last Updated: May 2, 2019