Department of Industrial Relations Malaysia
Department of Industrial Relations Malaysia
is commonly known as the
Jabatan Perhubungan Perusahaan Malaysia (JPPM)
in Malay.
Jabatan Perhubungan Perusahaan Malaysia (JPPM) was previously part of the Department of Labour and Industrial Relations (Malay:
Jabatan Buruh dan Perhubungan Perusahaan
).
It was established on December 21, 1972 when Jabatan Perhubungan Perusahaan split off Jabatan Buruh in a restructuring exercise.
Jabatan Perhubungan Perusahaan Malaysia is a department under the purview of the
Ministry of Human Resources
(Malay:
Kementerian Sumber Manusia
) and has branch offices across all states in Malaysia.
Jabatan Perhubungan Perusahaan Malaysia (JPPM) is headed by the Director General of Industrial Relation Malaysia, who refers and reports to the Minister of Human Resources through the Secretary General of the Ministry on all functions and duties of the department. The Director General of Industrial Relation has the general direction, control and supervision of all industrial relations matters in the country.
The main objective of Jabatan Perhubungan Perusahaan Malaysia (JPPM) is to ensure the existence of a positive and harmonious relationship between employers and employees and between their respective trade unions in Malaysia.
Laws and regulations enforced by Jabatan Perhubungan Perusahaan Malaysia are:
Industrial Relations Act 1967 [Act 177]


Industrial Relations Regulations 2009


Code of Conduct for Industrial Harmony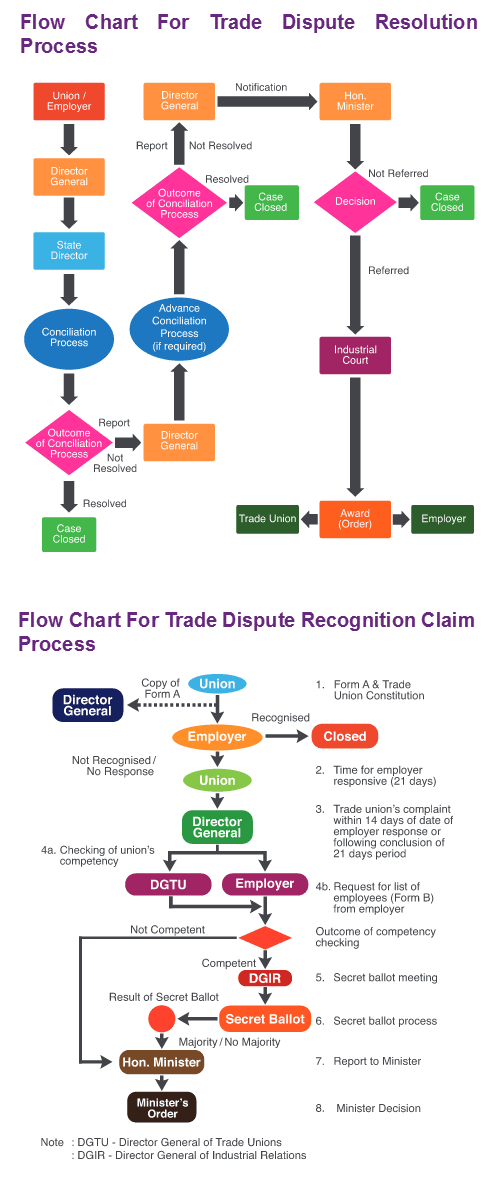 Flow charts for trade dispute resolution and recognition claim processes -
Main functions of Jabatan Perhubungan Perusahaan Malaysia (JPPM) are:
to monitor country's progress and trends in industrial relations to assist the government to formulate the national industrial relations policy and the national labour policy;


to provide conciliation services to prevent and resolve trade disputes and industrial action including representation for reinstatement in dismissal cases;


to provide advisory services to employers, employees and their respective trade union and organisation to inculcate positive industrial relations practices;


to encourage and assist in collective bargaining and formation of joint-consultative mechanism at workplace to motivate practices of self-governance and joint consultation;


to resolve disputes arising from employees' representation for reinstatement into their former employment;


to deal with recognition claims by trade unions; and


to assist employees in resolving problems arising from exploitation and unfair treatment by their employers.


The
Jabatan Perhubungan Perusahaan Malaysia (JPPM)
official website features:
Services Guidelines: Dismissal Representation, Productivity Linked-Wage System, Trade Union Recognition Claim Process, Trade Dispute and Resolution Process


Industrial Harmony Index (IHI)


FAQs: Productivity-Linked Wage System (PLWS), Productivity, Collective Agreement, Judicial Review, Dismissal Representation, Unfair Dismissal


Forms: Form A Notice of Claim for Recognition, Form A-1 Acknowledgment of Personal Services, Form B Particulars of Workmen, Reinstatement Form


Resources: Statistics, Publications, Notes, Acts, Tenders, Yearly Report


Branch Offices


Current Activities


Address:
Headquarters:

Department of Industrial Relations Malaysia
Jabatan Perhubungan Perusahaan Malaysia
Ministry of Human Resource
Level 9, Block D4, Complex D
Federal Government Administrative Centre
62530 Putrajaya
Malaysia.
Notes:
Official website available in English and Malay versions.
Website:
jpp.mohr.gov.my/
Share this page
Notes
Keywords
:

jabatan perhubungan perusahaan malaysia

department industrial relations malaysia

trade dispute

trade union

dismissal representation

jppm

Guide ID: 1937 -

Last Updated: May 9, 2019