National Registration Department (NRD)
National Registration Department (NRD)
is commonly and officially known as the
Jabatan Pendaftaran Negara (JPN) Malaysia
in Malay language.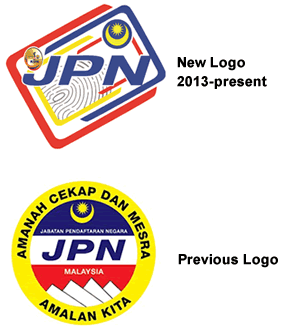 Jabatan Pendaftaran Negara (JPN) Malaysia Logo History
Jabatan Pendaftaran Negara Malaysia (JPN) is a department under the purview of the
Ministry of Home Affairs
.
Jabatan Pendaftaran Negara Malaysia was established after the Emergency Regulation 1948 were enforced as part of measures to deal with security threats. These regulations require all citizens to register and obtain an identity card upon the age of 12.
Jabatan Pendaftaran Negara Malaysia is responsible for registering important events of every individual such as birth, death, adoption, marriage and divorce and determining citizenship status and issuing identity card to eligible individuals.
History of Malaysia Identity Card:
First paper identity card was issued in 1948 in West Malaysia, during the Malayan Emergency (1948-1960). It was also known as Kad Beras then and mainly used as an identification to get rice supply after food control or rationing began to stop smuggling of food to communist guerrillas.


Identity cards for the Federation of Malaya were issued on August 2, 1960 with the implementation of the National Registration Act 1959 [Act 78].


First plastic laminated identity card bearing the number 0000001 was issued to Y.T.M. Tunku Abdul Rahman in 1961


The High Quality Identity Card (Malay: Kad Pengenalan Bermutu Tinggi), also a plastic laminated identity card but with higher quality and security features was officially launched on August 13, 1991. It was also known as the Kad Pengenalan Bunga Raya.


On September 5, 2001, Malaysia became the world's first to implement a smart card identification system using MyKad, a polycarbonate plastic identification card embedded with a 32kb chip containing fingerprint biometric data.


In 2002, the MyKad embedded chip capacity was increased to 64kb.


Effective January 3, 2012, new MyKad structure was launched featuring 80kb chip, DuraGard material where forgery attempt is easily recognized, anti-copy protection, holographic image of hibiscus flower using KINEPATCH technology, laser engraved photo and MyKad number, and the words "Malaysia Identity Card" in English.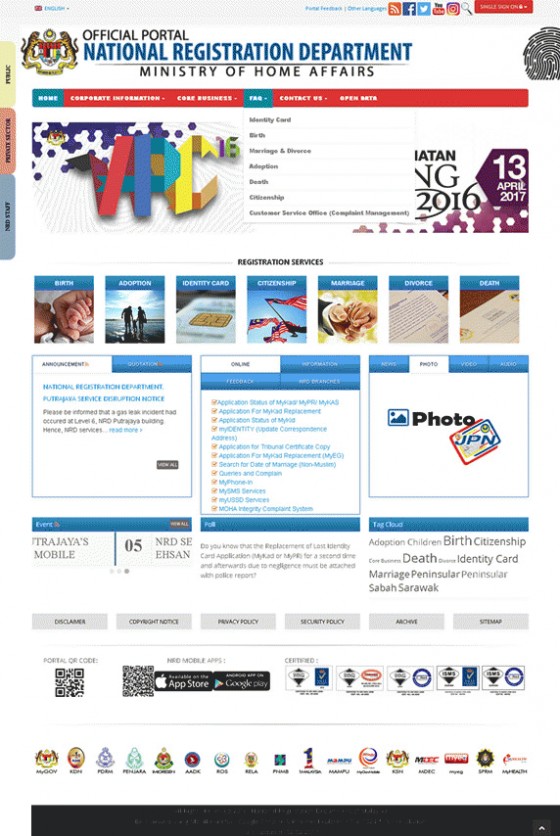 Screenshot of Jabatan Pendaftaran Negara (JPN) Malaysia
The
Jabatan Pendaftaran Negara (JPN)
official site features:
Application procedures, forms, payments and documents for:


Birth


Identity Card: MyKad, MyKid or MyPR


Child Adoption


Marriage for non-Muslim


Divorce


Death


Citizenship







Online Services:


Check application status of MyKad, MyKid, MyPR or MyKAS


Check application status for MyKad replacement


Update correspondence address of myIDENTITY


Application for copy of Tribunal Certificate


Search for date of marriage for non-Muslim







List of JPN branches nationwide


Share this page
Notes
Keywords
:

birth certificate

identity card

mykad

child adoption

malaysia citizenship

marriage

divorce

death certificate

Guide ID: 986 -

Last Updated: April 17, 2017