Mobile e-Waste: Old Phone, New Life
is an old phone recycling programmed initiated and promoted by the
Malaysian Communications And Multimedia Commission (MCMC)
, in collaboration with the Malaysian Technical and Standards Forum Berhad (MTSFB) and major industry players such as Altel, Celcom, Digi, Maxis, TM and U Mobile.
Mobile e-Waste programme was launched on August 18, 2015 in response to the adoption of Resolution 79 in 2012 in the World Telecommunication Standardization Assembly (WTSA-12).
The main objective of Mobile e-Waste is to promote:
environmentally safe disposal and recycling of end-of-life (EOL) mobile devices; and
instill recycling habits in Malaysia in order to reduce the volume of hazardous mobile devices and components.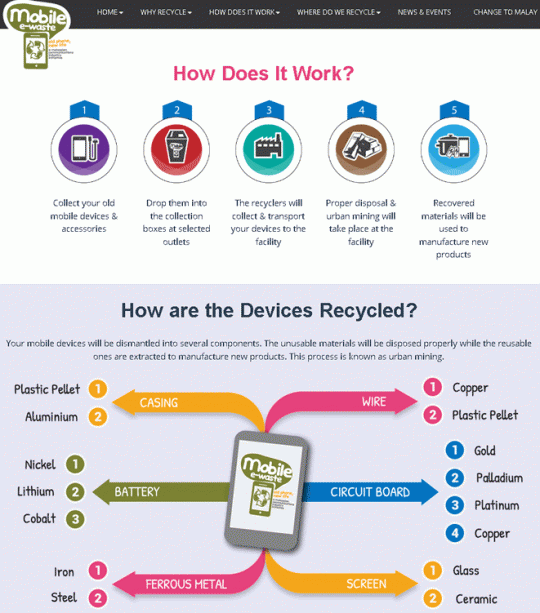 How does Mobile e-Waste work and how are the mobile devices recycled?
The materials in mobile devices and accessories are not biodegradable and contain hazardous contaminants such as lead, cadmium and mercury that could harm your health and pollute the environment if not disposed of properly.
The public can do their part in conserving the nature and preventing contamination by disposing their unused SIM-based devices such as feature phones, smartphones, tablets, phablets, chargers and accessories at participating outlets throughout Malaysia where a dedicated collection box is placed.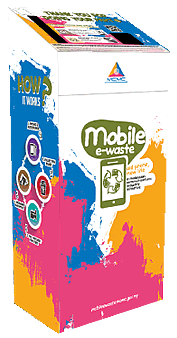 Mobile e-Waste Collection Box
The following are things you can discard in the collection box:
Unused or old mobile devices such as brickphone, smartphone, media player and tablets.
Unused, old or spare mobile device batteries. Conventional batteries such as AA and AAA are not acceptable.
Unused accessories including chargers, earbuds, external storage cards and cables.
The collected mobile e-waste will then be collected and transported by recycling partner, which is licensed by the
Department of Environment
, to a facility where proper disposal and urban mining will take place. Finally, recovered materials will be used to manufacture new products.
IMPORTANT NOTICE:
Before you throw your device into the collection box:
Ensure you delete all the data in your mobile device. You can perform a factory hard reset.
Remove and destroy unused SIM card and external storage card from your mobile device.
The official website of
Mobile e-Waste
features a list of participating outlets where you can find the Mobile e-Waste collection box.