Malaysia Venture Capital Management Berhad (MAVCAP)
Malaysia Venture Capital Management Berhad
, abbreviated
MAVCAP
, is the largest technology venture capital company in Malaysia which focuses on investments in the local information, communications and technology (ICT) sector and other high-growth sectors.

Logo of Malaysia Venture Capital Management Berhad (MAVCAP)
Incorporated in 2001 with an initial fund of RM500 million, Malaysia Venture Capital Management Berhad (MAVCAP) is a government linked company under the purview of the
Ministry of Science, Technology and Innovation, Malaysia (MOSTI)
.
The main objective of Malaysia Venture Capital Management Berhad is to develop and spur the growth of the technology sector and the venture capital industry in Malaysia through venture capital financing.
MAVCAP invests through its:
Direct Investment Program: Equity participation


Outsource Partners Program: Co-invest with other venture capitalists and investors


MAVCAP may hold Board position and invest for a period of 3-8 years in its portfolio companies which include seed, start-up, early, expansion and late stage companies.
Minimum investment is RM50,000 while the maximum investment is RM40 million.
The official website of
Malaysia Venture Capital Management Berhad
features:
About MAVCAP, Program and Funds


How does Venture Capital help companies?


What is Venture Capital?


Portfolios


Partners Program


Online Submission of Business Proposal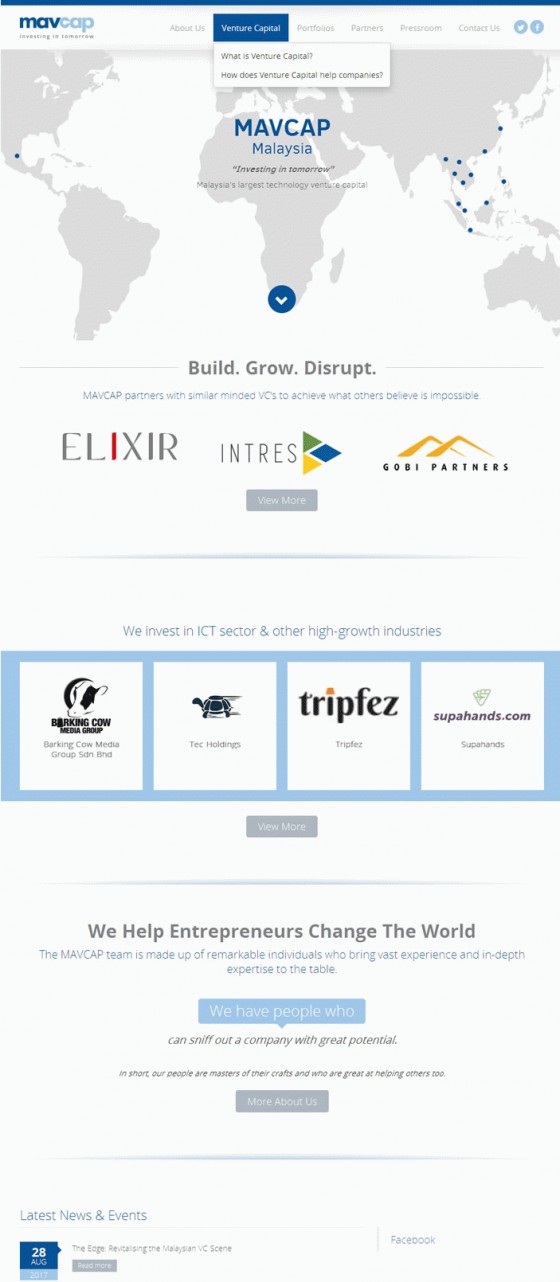 Screenshot of Malaysia Venture Capital Management Berhad (MAVCAP)
General Investment Process:
1.
Submission of Business Proposal or Executive Summary
2.
Prospect Summary:
Log deal into VCMS


3-5 pages internal report that summarizes the key investment points


Require votes on VCMS to proceed to next stage


3. Initial Screening:
5-10 pages internal report on key points of your business


Promoter presents to members of Investment Committee and obtain their feedback on your business or market space


Require higher number of votes on VCMS to proceed to next stage


4.
Due Diligence:
Legal due diligence


Financial due diligence


Technical due diligence


Market due diligence


Promoter due diligence


5.
Term Sheet:
Salient Investment Structure (Ordinary Shares, Redeemable Convertible Preference Shares, Share Holders Agreement)


Investor Rights


Milestone Drawdowns (Operations, Sales, Technical, Profit, etc.)


Conditions Precedent


Term Sheet sign off


6.
Investment Committee Meeting:
Present on your behalf to the Investment Committee panel


Unanimous votes required for investment to go through


7.
Legal Negotiation:
Translating the term sheet into Shareholders Agreement, Subscription Agreement, etc.


8.
Disbursement:
Agreements signed


CPs met


1st tranche disbursement takes place


Become an investee company of MAVCAP


Share this page
Notes
Keywords
:

venture capital

investment

business proposal

raising capital

venture capitalist

business

financing

entrepreneurs

vc

Guide ID: 3298 -

Last Updated: September 30, 2017