The history of
Percetakan Nasional Malaysia Berhad (PNMB)
dates back to 1888, when it was originally established as the
Government Printing Department
in Taiping under the Perak State Government.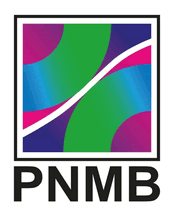 Percetakan Nasional Malaysia Berhad (PNMB) Logo
In 1901, the Federated Malay States Government Printing Office was moved to Brickfields where it handled printing needs for Perak, Selangor, Negeri Sembilan and Pahang.
In 1941, Federated Malay States Government built a printing office in Jalan Chan Sow Lin, what is now the headquarters of PNMB.
In 1967, in line with the Malaysia Government policy, the Government Printing Department was renamed to Jabatan Cetak Kerajaan.
In 1977, Jabatan Cetak Kerajaan was placed under the purview of the Ministry of Local and Federal Government. It was renamed Jabatan Percetakan Negara in 1979.
Jabatan Percetakan Negara was corporatised on 1 January 1993 and renamed Percetakan Nasional Malaysia Berhad (PNMB). It was a wholly-owned subsidiary of the
Minister of Finance Inc (MoF)
and became an agency under the
Kementerian Dalam Negeri
(KDN).
In 2017, PNMB was privatised when the sale of PNMB was finalised by the Ministry of Finance Inc.
Today, PNMB has a network of 10 branches in Alor Setar, Bukit Mertajam, Ipoh, Johor Bahru, Kota Bahru, Kota Kinabalu, Kuantan, Kuala Terengganu, Kuching, and Ayer Keroh.
Key clients of PNMB are mainly government ministries and departments including the
Immigration Department of Malaysia
,
Suruhanjaya Pilihan Raya Malaysia (SPR)
,
Lembaga Hasil Dalam Negeri (LHDN) Malaysia
,
Polis Diraja Malaysia
,
Kementerian Pelajaran Malaysia
,
Kastam Diraja Malaysia
,
Suruhanjaya Syarikat Malaysia (SSM)
,
Jabatan Audit Negara
and
Perbadanan Harta Intelek Malaysia
.
PNMB offers a wide range of printing services from conventional to digital. Its core business is to meet the government's printing needs, namely, forms, annual reports, gazettes and many others.
Various other printing services and products provided include:
variable data printing


security printing


smartcard solutions


track and trace solutions


digital imaging and archiving solutions


The official website of
Percetakan Nasional Malaysia Berhad (PNMB)
features more information on its products and services and an online shop.

Percetakan Nasional Malaysia Berhad (PNMB) Screenshot