Established in 1946 as the
Malayan Telecommunications Department
. In 1957, it was renamed
Jabatan Telekom
.
Prior to 1963, telecommunications services in East Malaysia were managed by Telecommunications Department of Sabah and Sawarak. In 1968, this department merged with that of Peninsular Malaysia to form Jabatan Telekom Malaysia.
Jabatan Telekom was corporatised in January 1987 as
Syarikat Telekom Malaysia
.
Syarikat Telekom Malaysia was listed on Bursa Securities in November 1990 and renamed
Telekom Malaysia Berhad
.


Logo of Telekom Malaysia
The headquarter of Telekom Malaysia Berhad is located at Menara TM, Kuala Lumpur.
TM's mobile arm,
Celcom
is Malaysia's premier mobile communications provider. In September 2007, Celcom, under TM International was demergered from Telekom Malaysia and defined as a separate business entity.
TM International
was subsequently renamed AXIATA.
Telekom Malaysia is the largest fixed broadband and integrated telecommunications solutions provider in Malaysia and one of Asia's leading communications companies.
Today, Telekom Malaysia is a converged communications services provider, offering a comprehensive range of communication services and solutions in broadband, data and fixed line.
Subsidiaries of Telekom include:



Yellow Pages (TM Info-Media Sdn Bhd)


VADS Berhad


Menara Kuala Lumpur


Telekom Research & Development Sdn. Bhd.


TM offers a comprehensive range of communication services and solutions:
For Home:
Broadband: UniFi (high-speed broadband), Streamyx, TMgo (4G broadband on-the-go)


HyppTV: IPTV (Internet Protocol Television) service


Voice Services: Fixed line


For Business:
TM Global: Global hosting services, IPVPN, IP transit and VSAT services; Optical bandwidth; Voice services; DSL and IP wholesale; High Speed Broadband (HSBB) Access and Transmission, Wholesale wireless service, internet access and Ethernet; Space rental service at TM's network building; Solutions for OTT and IPTV services


TM One: Network services (Broadband and internet connectivity; Fixed and managed network services); Fixed and mobile voice; Unified collaboration-as-a-service; IT solutions (Social media, Big data, Dashboard analytics and managed services); Unified threat management and secure WAN; Iskandar Puteri Core Data Centre; Public, private and hybrid Cloud services; Contact Centre; Solutions for smart city, smart home, CCTV, connected shopper and smart parking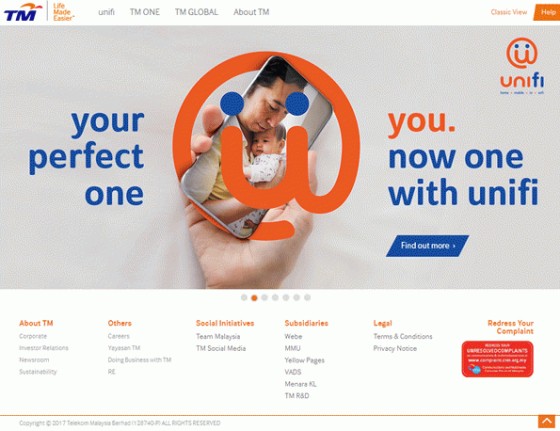 Screenshot of Telekom Malaysia (TM)
The official website of
Telekom Malaysia
features:
Unifi: For home, business mobile users to view bills, pay bills, check coverage, live chat and TM Rewards


TM One: Solutions for enterprise and public sector business


TM Global: Focuses on domestic and international wholesale business