Important Update:
TM has discontinued its Webe service on 12 January 2018. It has since launched a new mobile plan called
Unifi Mobile
on 25 January 2018 to replace Webe.
Webe is a digital mobility service provider officially launched on August 16, 2016 by
Webe Digital Sdn. Bhd.
, a subsidiary and mobile arm of
Telekom Malaysia Berhad (TM)
.
Webe Digital Sdn. Bhd. is formerly known as
Packet One Networks (Malaysia) Sdn. Bhd. (P1)
, the wireless broadband or WiMAX service provider.
P1
was rebranded as
Webe
on April 13, 2016 to make internet and mobile access easier and enjoyable for all Malaysia with data liberation.
Webe is a community-driven brand, offering
one
simple, affordable and worry free mobile or broadband plan.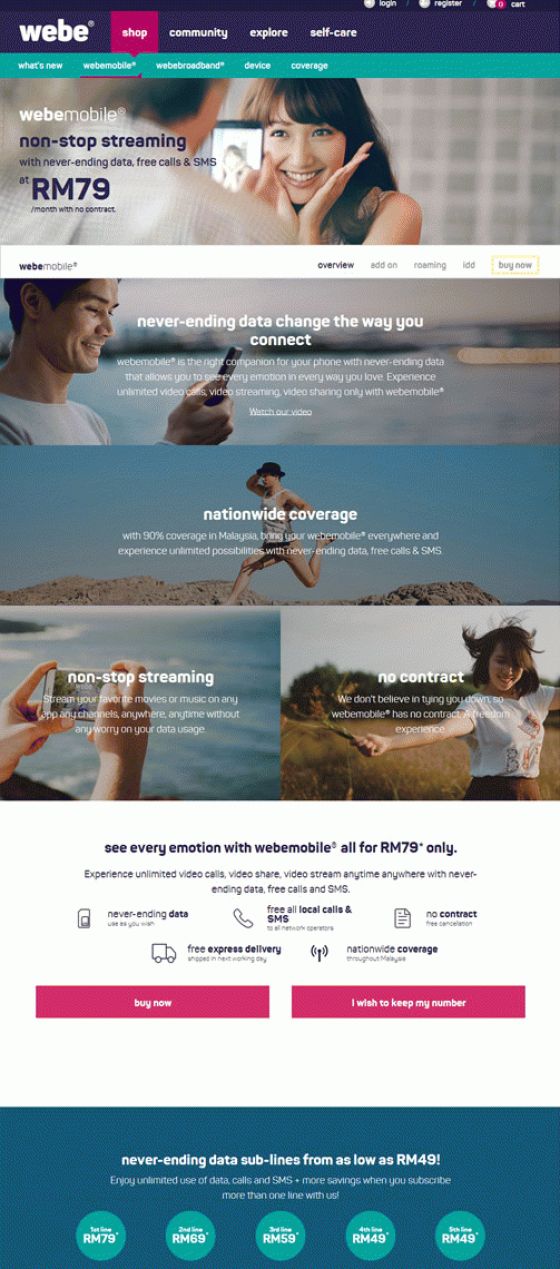 Screenshot of Webe Mobile Plan
1. Webe Mobile Plan:
No contract, no mobile data limit, unlimited calls nationwide and SMS.
All Webe SIM cards comes with three built-in sizes (mini, micro and nano) that would fit into any phone models.
You can choose your favorite number or keep your existing number by switching to Webe plan online.
Plan Price:
When Webe was launched in August 2016, its plan was only available to invited TM or P1 customers at a single price of RM79 per month (RM83.74 inclusive of 6% GST).
On September 30, 2016, Webe was open to public and the basic plan price was
RM199/month
.
Subscriber of TM or P1 Broadband services
got a RM60/month discount.
Currently, Webe Mobile is open to public at RM79/month.
Note:
Webe mobile plan is for personal use only, commercial use is not allowed.


Plan prices are not inclusive of 6% GST.


An upfront payment of RM100 is required and will be used to offset your first bill when you subscribe Webe plan.


There will be additional charges for international direct dial (IDD), international roaming, call to special number and multimedia messaging service (MMS).


Peer to Peer (P2P) data traffic is subject to Fair Usage Policy and capped at 64kbps.


Video streaming will be auto-tuned to 480P wide screen.


You can tether your mobile data connection to other wireless-enabled devices by purchasing a Personal WiFi Pass at RM6 for 2 hours.


If you are not a Malaysian citizen, a deposit of RM300 is required.



Screenshot of Webe Broadband Plan
2. Webe Broadband Plan:
This plan is available to public at RM59 per month for 30GB. You can pair your Webe Broadband with a WiFi modem and share up to 10 devices without GB caps during peak and off-peak.
The official website of
Webe
features:
Shop Online: Plan, Add On, Roaming, IDD, Device and Coverage


Self-Care: Dashboard, Bills, Subscriptions, Orders and Profile


Support: Knowledge base, Store locator, FAQ, Switch to Webe, Discount Guide