130 Views ⚫ Asked 2 Months Ago
My Vietnam passport has RAI from Malaysia immigration, is it permanent or limit to 5 years ban from entering Malaysia?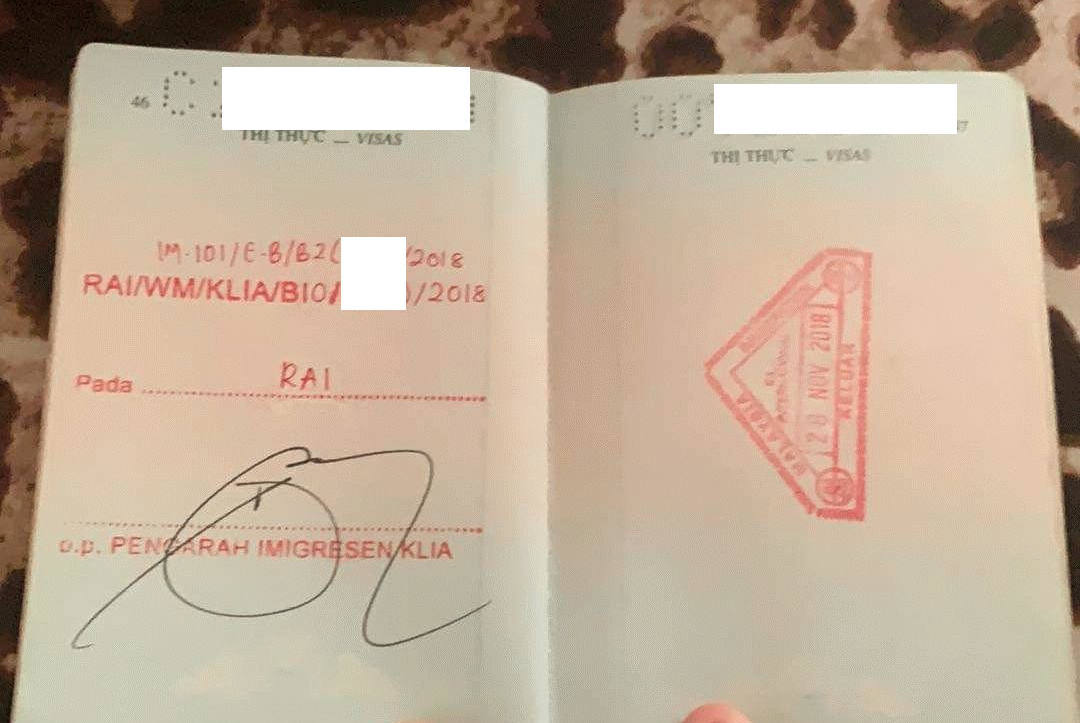 You are not the bearer of this passport.

Why and how did the bearer of this passport obtained this stamp?
Please be specific.

The bearer of this passport and stamp would have been informed by the Immigration Officers when leaving at KLIA. Sometimes some officers can be very rude and says, do not come to Malaysia ever again..!!

Very brutal, but the truth for breaking Laws Of The Land..

This is at the last page of the PASSPORT .. !!
It is my passport, I was caught at KLIA 2 airport while trying to exit Malaysia, the immigration officer saw my fake visa stamp and was brought to sepang illegals detention center, I stayed 1 month in detention and was brought to court and was asked to pay 3k and my friend bought the flight ticket back to Vietnam. Before my flight the immigration stamped as per the photo I attached.
My question is whether this for life no entry to Malaysia or 5 years ba
Thanks
Personal interpretation

RAI. At last page = Lifetime ban

RAI at center page = At least 10 years ban, appeal available on valid reasons.after 10 years.

Overstay is a criminal offense (minor)

Faked stamp/s is a serious criminal offense.
Thank you for the reply and appreciate your answers
answered on Oct 8, 2021 at 08:49
by   
Anna lee
Thank you for the reply and appreciate your answers
--------------------
@ Anna Lee
I also appreciate your thank-you and update. Most Questioners would just leave this page after my brutal answers.
There is somethingy that you have chosen a Chinese name profile. Can means you have friends or even sisters relatives inside Malaysia. Most of you were cheated by scammers /agents with false fake immigration stamps. Keep all these documentations well.
For your case
only
Make an appeal to Malaysian Embassy in VN.
After 5 years on date of ban.
Provide
1.  Proof of employment income in VN or from other countries
2.  Get a "invitation letter" from Malaysian Friends to visit them.
3.  Prove to MY IMI that you will not overstay and break IMI Laws again.
4.  Submit docs to prove that you have been cheated and there is no intention of you cheating but was scammed by irresponsible agents.
All is not lost
.. you may be able to come visit Malaysia as a
Tourist
again (after 5-6years) You have to make repeating "appeals". I have taught people to come back again (a VN mother with a Malaysian Child stuck here).
MY
and
VN
have good diplomatic relations.
Many Malaysians have married VN brides in the past, so, some of you may have "relatives" here.
Immigration policies can change in the future and allow certain category of RAI offenders to VISIT Malaysia again with valid reasons and appeals (no agents). Unfortunately, at this pandemic period, is a Lifetime ban.
Good Luck dear..