Today's stats : 
NEW RECORD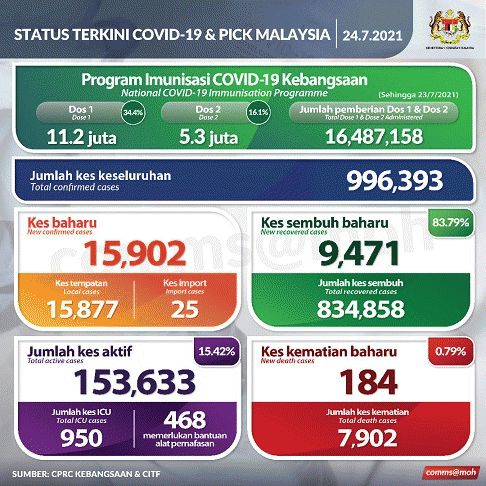 1,000,000 cases by tomorrow morning.. !!
5.3M
Vaccinated is still far behind the reaches of
Herd Immunity
..!!
Roll out our
National Guard
.. arrest and put in Jail / Detention Camps for Those who break M.C.O. 3.0
deliberately..!!  [
DO NOT FINE
only.. The rich ones can afford like loose change in their pockets, but think of the poor citizens (like me) who are collateral damages to those law breakers.
]
#WearMasks (indoors & Outdoors)
#StayAtHome
#StaySafe 
#ProtectOthersAsWell
Plz can someone call the PDRM or MoH, KKM to rescue me?
My children have
Deny Exit
on me from my home.
I cannot run overseas, they have taken my passport.
I have been threatened that I could be chained to my keyboard without internet access if I go out of the house and catch the Delta Plus SARS-Cov2 virus.,
Can I invoke my Constitutional Rights to be able to go out freely without further restrictions?
Go for
single dose
vaccines (we can get some form of immunity after 14 days). Double doses is too time consuming..!!