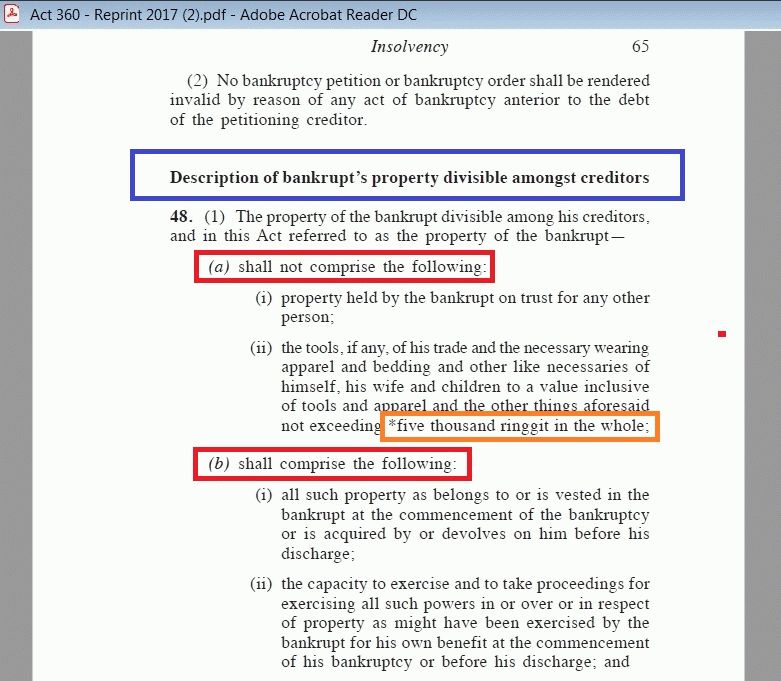 With reference to Act 360
s
48 (1a)
(i)
.
Under what conditions a bankrupt's house will
not be
taken away by JIM (Insolvensi), to be sold and the proceeds divided among POD Creditors?
Example : (Personal View /interpretation)
Residential Home
Husband and wife Joint names ownership
Wife was bankrupted due to Bank A loan debt/s
Property under Housing Loan (another Bank B) with Husband as Single Borrower
Wife must report in to JIM asap and made declarations in her
SOA
(Statement Of Affairs) on her 50% ownership of the Family House but is
held 
(and which is paying /paid for solely by the husband)
on trust
  for the Family. Proof must be tendered and JIM will not take any action on this property due to the Act 360
s
48 (1a)
(i)
.
Note : The above law interpretation is personal in nature, made possible with collaboration with Puan
Noralina1010
  (Ref :
https://www.lawyerment.com/answers/questions/13858/melawan-petisyen-kebankrapan?g=3#tab-top
(Caveat : The above article is written by a Q&A registered User. It represents a personal point of view only and not be regarded as legal advice.)