1668 Views ⚫ Asked 1 Year Ago
General Notice
Every Public Website have trolls, scammers and fake news.
Some trolls loves add misery and/or make mockery comments to victims.
Even our MY Immigration websites and social websites have been hijacked to have fake news posted.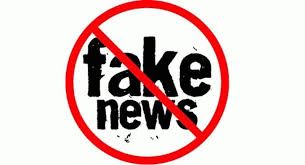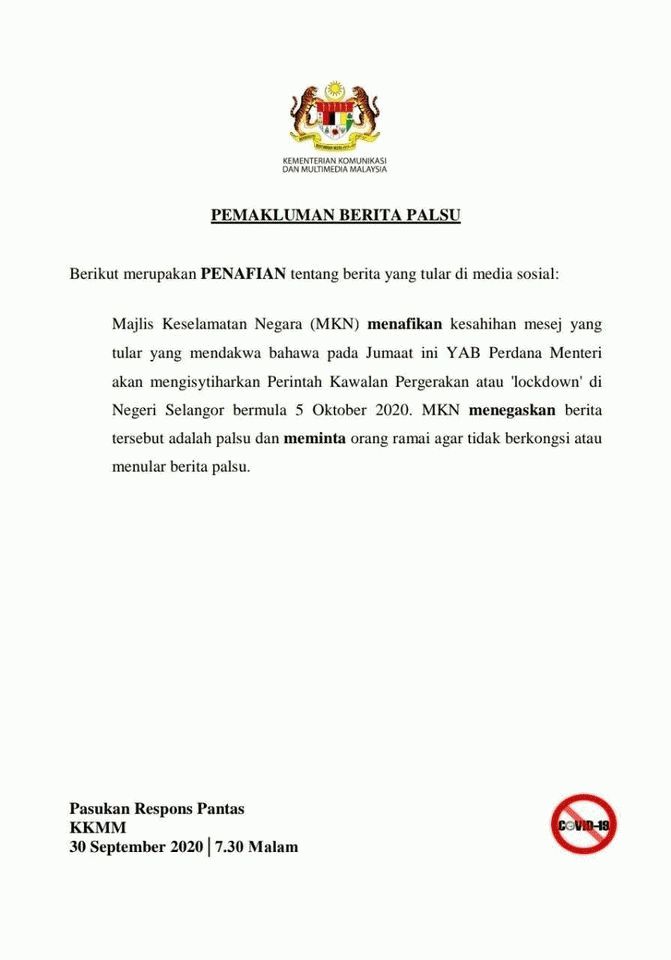 The above is released by MKN to create awareness of fake news circulating in social media.
New SCAM  in Social Media
SCAM ALERT..  !!
Just letting you know that there have been scam callers recently who call and say "According to our contact tracing, you have been in close proximity to someone who has been tested positive for COVID-19. This means you now need to self isolate and take the COVID-19 test.
I cannot give you any information about the person or the whereabouts of contact due to privacy laws.
But you need to be tested within the next 72 hours.
So, can I get the best mailing address for you so that we can send out a testing kit?"
After you give the address, they will ask for your payment card number and details quoting that the test kit and results is a $50 charge and is not free.
If you refuse to give them your bank card / credit card details, they threaten saying that there are penalties for not complying.
So, please be wary. And if you know any vulnerable people who would fall for this scam... alert them to it.
骗术警报!!
 只是让您知道最近有诈骗者打电话给他们,并说:"根据我们的联系追踪,您与被测试COVID-19呈阳性的人非常接近。 这意味着您现在需要自我隔离并接受COVID-19测试。
 由于隐私法的原因,我无法向您提供有关此人或联系方式的任何信息。
 但是您需要在接下来的72小时内进行测试。
 那么,我能为您找到最好的邮寄地址,以便我们发送测试套件吗?"
 在您提供地址后,他们会要求您提供支付卡号和详细信息,并引述测试套件和结果是50美元的费用,而且并非免费。
 如果您拒绝向他们提供您的银行卡/信用卡详细信息,他们会威胁说,将有违法行为的处罚。
 所以,请小心。 而且,如果您知道有任何易受此骗局攻击的脆弱人群,请提醒他们。
[  Danger..!!   ]
1.  Do not give your personal data to anyone via online or handphone calls.
2.  Do not give your numbers to unknown people.
3.  Do not simply call another number given to you via online messages.
4.  Be wary of scams conducted thru FB, Private Websites and Forums..!!
Wishing all Chinese readers to have a Great Time for this
Mid Autumn Festival
  with your Beloved Family and with Frenzs of all Races.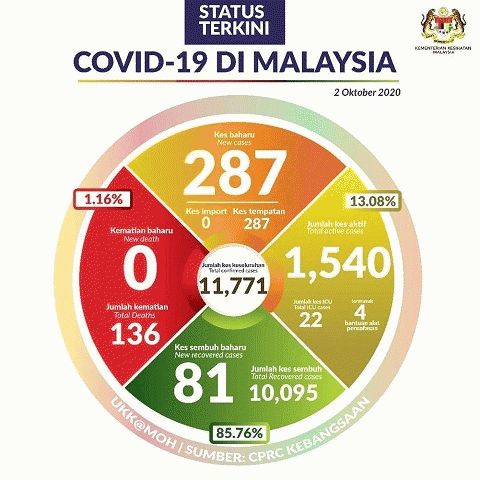 KUALA LUMPUR: At 287 new cases today, this is the highest daily figure since the novel coronavirus hit our shores earlier this year.
All 289 are local transmissions, with Kedah overtaking Sabah as the northern state records 129 new cases. Sabah meanwhile records 113 new cases.
One more fake news reported from 
KEMENTERIAN KESIHATAN MALAYSIA
  (MOH) website.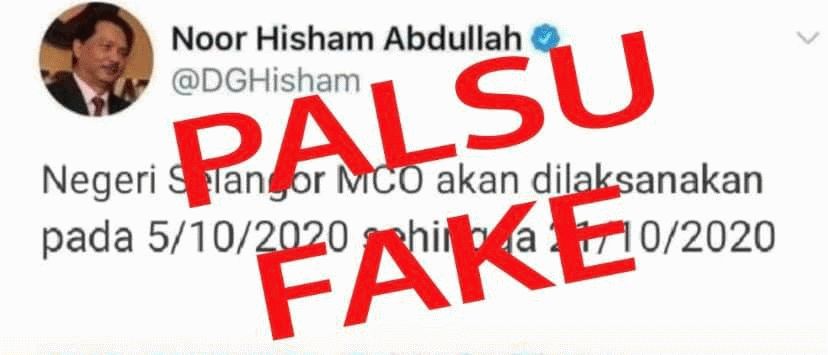 Notice
Please do not forward this newspiece.
It is posted here to create awareness of fake news circulating in handphones.
Such fake news is disruptive to our daily lives.
Live and work as normal within the scope of current RMCO (PKP).
Covid-19: Postpone large-scale events, says Dr Noor Hisham
Source  :  
https://www.malaymail.com/news/malaysia/2020/10/02/covid-19-postpone-large-scale-events-says-dr-noor-hisham/1908980
PUTRAJAYA, Oct 2 — The Ministry of Health (MoH) has recommended that all large-scale events and mass gatherings be postponed following the increase in Covid-19 positive cases.
Director-General of Health Tan Sri Dr Noor Hisham Abdullah said mass gatherings should be avoided to break the infection chain of the deadly virus in the country.
"If mass gatherings or conferences need to be held, each organiser must ensure that the standard operating procedures (SOP) set are complied with by all parties.
"We are still in the recovery movement control order (RMCO) period and everyone must comply with the SOP set by the National Security Council," he told a press conference here today.
Dr Noor Hisham said there was no recommendation from the ministry to limit activities in the social sector so far, although the daily Covid-19 cases showed an increase. 
"We have not yet decided and are monitoring the latest developments. If the case spreads quickly, we will look at follow-up action," he said.
Meanwhile, Dr Noor Hisham said schools would be closed for two weeks for the decontamination and disinfection processes if there were positive cases of Covid-19 detected among students, teachers and staff.
On the report of the death of a teacher in Sabah due to suspected Covid-19 infection, he said the ministry needed to conduct the Reverse Transcriptase — Polymerase Chain Reaction (RT-PCR) test first to confirm whether the patient died due to Covid-19 or not.
"The patient experienced shortness of breath and died, we have run the RTK Antigen test on him and the result came back positive but it cannot confirm that the patient was positive Covid-19 because the accuracy of this test is only 80-85 per cent.
"We cannot confirm yet because the RT-PCR test needs to be done first. Now we are taking public health action which is to carry out contact tracing and decontamination process," he said.
Dr Noor Hisham said the MoH and relevant agencies could not fight Covid-19 alone, instead the greater responsibility rested on the shoulders of every individual in the society, regardless of rank, background and status.
"Avoid blaming one another. This social responsibility needs to be shouldered together so that we can break the chain of Covid-19 infection in our country. We have gone through it together before by taking care of ourselves, our families, our community and our country," he said.
He said the public would be updated with the latest developments on the Covid-19 pandemic through information obtained from the World Health Organisation (WHO). — Bernama
Malaysia Status Update :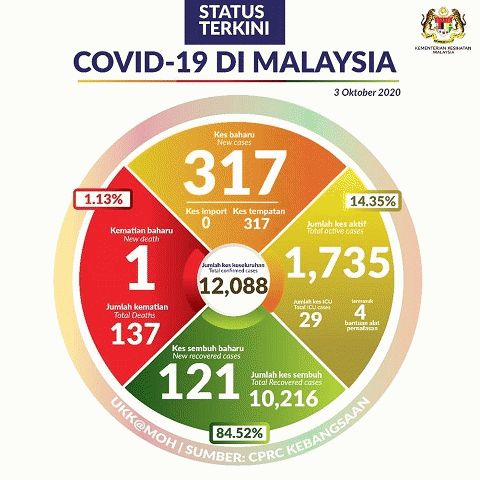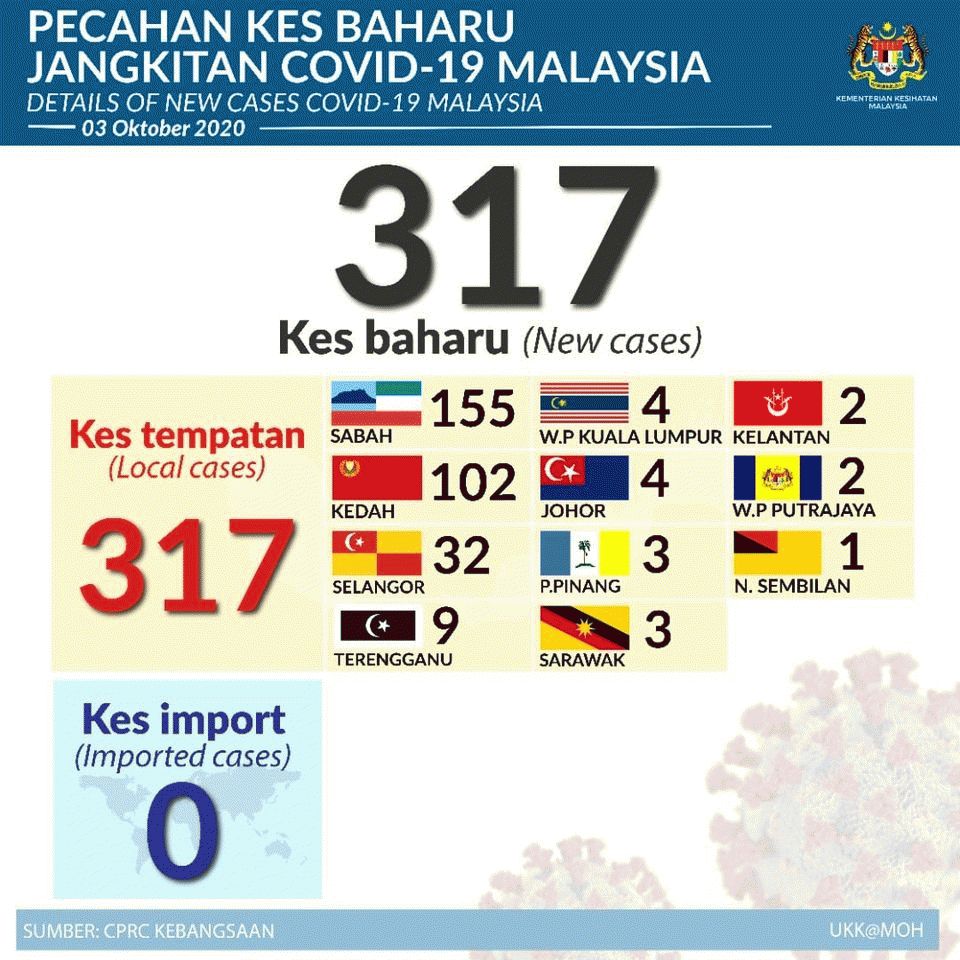 Be cautious Folks whenever you go out in crowded places like Sunday Morning Markets. Take care of ourselves and all those around us.