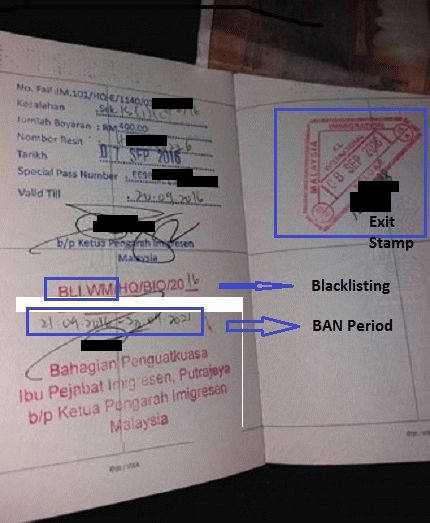 For Foreigners
Everything is in your passport. The last time you exited Malaysia, the stamps there would have indicated any Blacklisting, BAN period (refer to the pic above).
If you are still inside Malaysia 
now 
, you should now know that "
overstaying
" is a "
Criminal Offense
" in Malaysia and the U.K., whereas in the USA and some countries in E.U. is a minor
misdemeanour.

(How to clear Blacklisting?)
There is no clearing. You can enter again after the period of BAN.
Changing to new passport or use another country's passport to re-enter of is of no functionality at all because when one who has overstay, the 10 biometrics finger prints and facial features is taken and recorded into the Immigration Systems.
>>>
For Malaysians who is inside Malaysia or overseas, one can check online with the Immigration Website using your 12 Digits National Identity Card numbers.
Link : 
https://sspi.imi.gov.my/SSPI/