271 Views ⚫ Asked 9 Months Ago
asked on
Oct 16, 2019 at 19:48
by
edited on
Feb 17, 2020 at 15:35

answered on
Oct 16, 2019 at 23:35
by
edited
Feb 17, 2020 at 19:46

answered on
Oct 16, 2019 at 23:53
by
edited
Feb 17, 2020 at 20:06
@Mentor
How to Study in Malaysia
Malaysia is an Educational Hub (Center) in South East Asia.
There are plenty of Professional Studies available and to choose from. The living cost in Malaysia is the lowest and the fees are the most competitive in this region for International Students.
There are:
1. Public Universities (PhDs, Masters, Medical, Degrees in Engineering etc.)
2. Private Universities (Tied up with Universities from the USA, EU and AU)
3. Private Colleges which offer Professional Certifications, Diploma courses
4. Off Campus Overseas Colleges
5. Part-time Studies Masters Degrees (With Professional Work Pass but study part-time with a combo of night and week-end sessions).
Medium of instruction
1. Malaysian National Language - 
Malay
2.
English
 (Both UK and US)
3.
Chinese Mandarin
 (Private Colleges only for the purpose of Chinese Higher Education in China and/or Taiwan).
4. Islamic Studies in 
Arabic
How to Come to Malaysia Properly and Legally
A student has to apply through a Government vetting agency known as 
EMGS (Education Malaysia Global Services)
for a 
Student Visa
. Link: 
Education Malaysia Global Services
 (all types of courses are available).
Once the 
Student Visa
 is approved and sent to the student, the student can enter Malaysia. 
Upon arrival inside Malaysia, the student has to apply via the college to nearest Immigration Center for a 
STUDENT PASS
within 1 month.
A student must complete the above legal immigration procedures in order to be a legitimate student inside Malaysia.
Other Critical Notes
Those on Student Pass 
are not allowed
to work in Malaysia, with the exception of those on Professional Degrees with tied up 
Internship with MNCs
( Multi National Corporations) who can work for a maximum of 6 month (no need work permits).
Those on Professional Degrees are only allowed 
part-time work
 (restricted number of hours per day and number of days per week) during long semester breaks.
All under student pass must leave Malaysia upon completion of the studies and the student pass 
MUST
be cancelled by the college. This is a legal requirement to be able to come back into Malaysia as a tourist or look for employment in the future.
My advice is to come 1 month into Malaysia and visit the college of your choice, look for other International students from your country, discuss with them, visit the quality of the campus and student hostel accommodation available. Then only make application to 
EMGS
 while here, then go back to your country and wait for the 
Student Visa
 to be sent to you to come into Malaysia to make the final critical 
Student Pass
(inside Malaysia). Your college will arrange for the application.
DO NOT GO FOR THE CHEAPEST COLLEGE.
 Quality Education is most important.
Sample picture of cancelled Student's Pass upon completion of studies: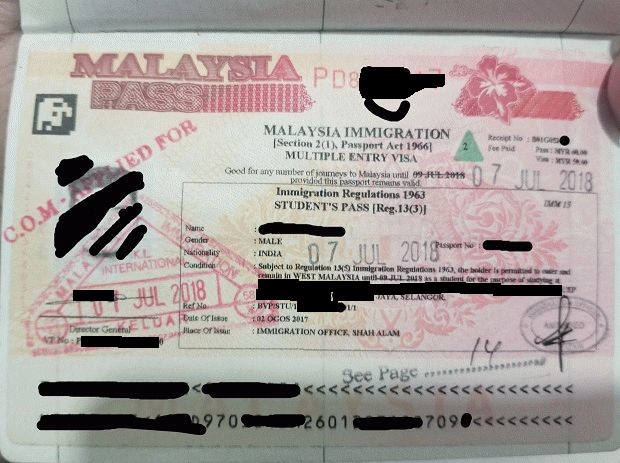 answered on
Oct 17, 2019 at 02:35
by
edited
Mar 1, 2020 at 23:41
@jeff005

Thank you for your quick response. I went to Malaysia on the 28 July to find a suitable institution for my studies but I did not meet their English requirement thus I have to get an English language certificate from an institution, so I applied for a language school so I can have the required English qualification for further studies.

I exited Malaysia on 23 August on a flight to Myanmar, where I got into problem of religion and they couldn't let me in so I flew back to KLIA1 and tried to enter Malaysia again but I only had enough money on my visa card but not enough cash in hand so I was refused entry and given that stamp on my passport. I'm 26 years now.

I just want to know when I get my student approval will they allow me entry and will I have the student visa with that stamp on my passport?

Thank you.

answered on
Oct 17, 2019 at 10:17
by
edited
Mar 1, 2020 at 23:18
@Mentor
I just want to know when I get my student approval will they allow me entry
The main purpose of the 
NTL
 stamp on the
Last page
is to make sure you have done the process for the application correctly in order to come inside Malaysia.
will I have the student visa with that stamp on my passport?
There is no such thingy as "student visa" stamp.
Upon approval from 
EMGS
, a
VDR
memo will be send direct to you in your country for you to go to the Malaysian Embassy to apply for a 
SEV (Single Entry Visa)
to come into Malaysia on a
Visitor Pass
to complete the process of the application of a
Student's Pass
.
An approved student pass is in the form of a "sticker" permit, pasted into the pages of your passport.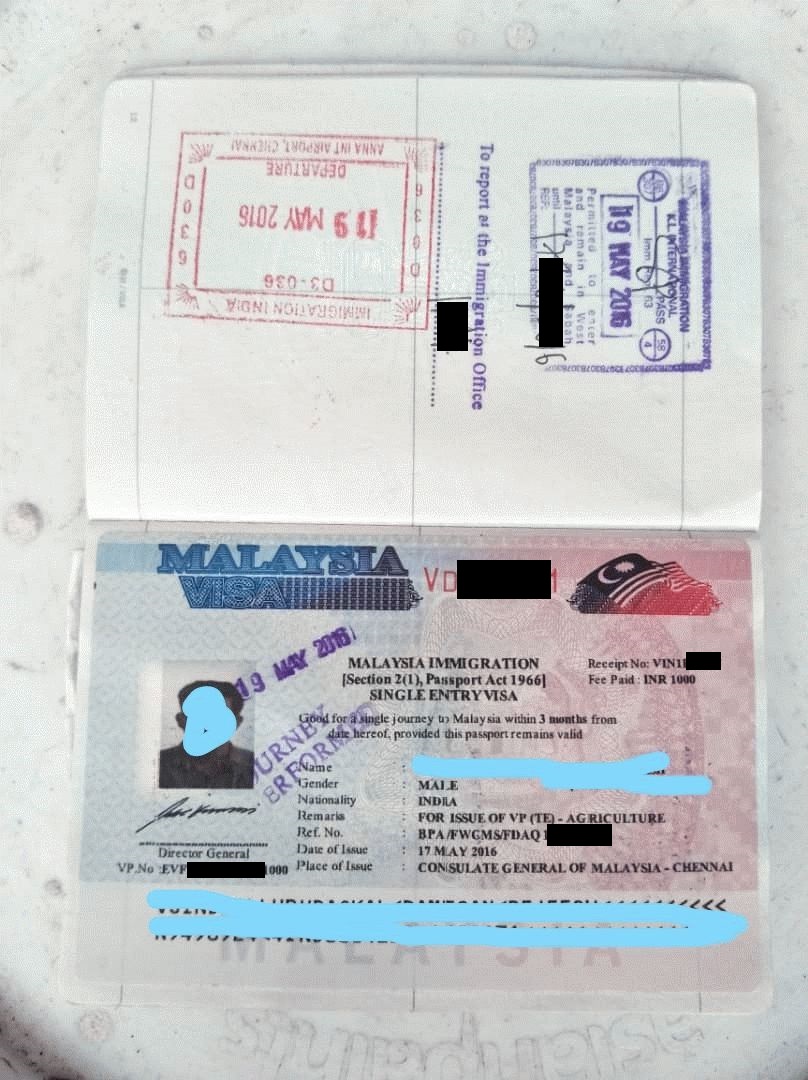 [Photo - Sample of a Single Entry Visa].
answered on
Oct 17, 2019 at 15:59
by
edited
Feb 25, 2020 at 22:43
@jeff005

Thank you. I now know that this stamp will not affect the approval of my student application and the student pass for my passport.