Attention to those who have overstayed in Malaysia
Surrender to the Immigration is the ONLY Solution:
For the surrender to Malaysia Immigration,
1. Bring the original passport that you have used to enter into Malaysia. 
2. Bring Police Report for "Lost Passport", then go to your country's Embassy/ Consular Services to obtain an
ETC
(Emergency Travel Certificate), some countries issue
emergency travel
passport, some countries issue
"out-pass"
.
3. Any Proof or valid reasons to overstayed in Malaysia.
4. Do not buy in advance air ticket till you are sure of the validity date of the exit
"Special Pass"
issued to you by the Malaysia Immigration at a cost of RM100 only, after the payment of compound penalties (fines).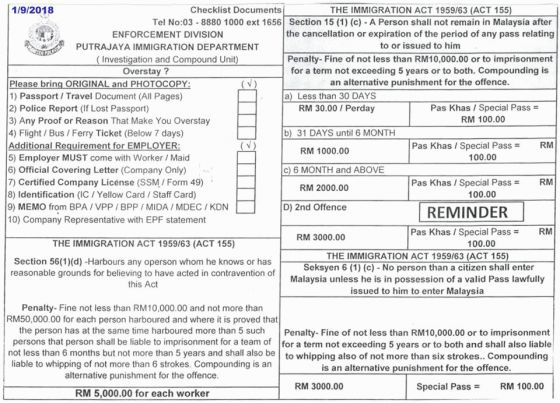 Please take note that this thread has been created as
part 2
to continue from the old thread of
https://www.lawyerment.com/answers/questions/11868/what-to-do-if-you-overstayed-in-malaysia?g=last#a46885 
part of the reason, to be more friendly towards users with mobile devices.
Although some old policies have been changed, it would be wise to read back those cases which could be similar to yours. Then people will understand the process on how the 6P, 3P, Rehiring, Amnesty and the (3+1) Surrender came about.
Re-Hiring of Illegals  is over 30/06/2018
The Surrender (3+1) is over on 30/06/2018
The Amnesty is over 30/08/2018.
All those remaining inside Malaysia without valid documents now are regarded as having
overstayed
 and by administrative legal definition known as 
ILLEGALS.
Viewers can asked questions in this new thread or at the old thread at:
https://www.lawyerment.com/answers/questions/11868/what-to-do-if-you-overstayed-in-malaysia?g=103#tab-top