875 Views ⚫ Asked 1 Month Ago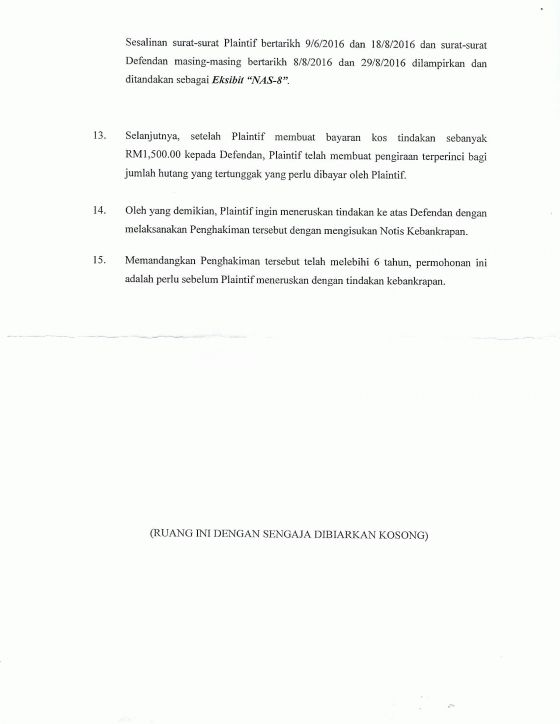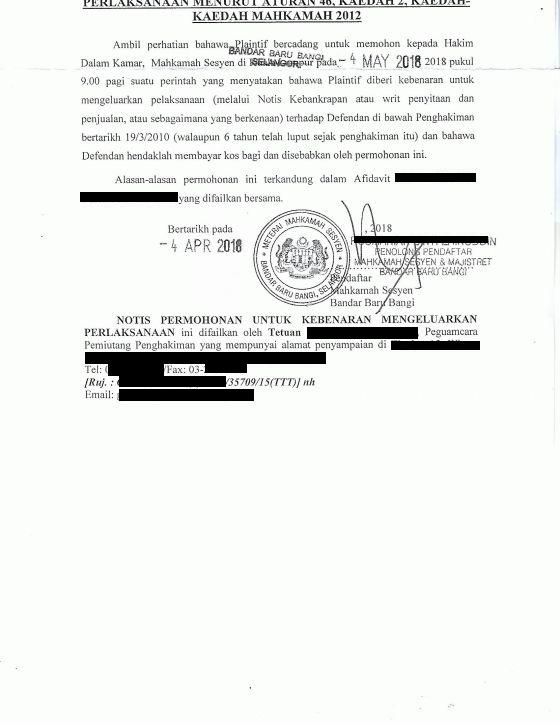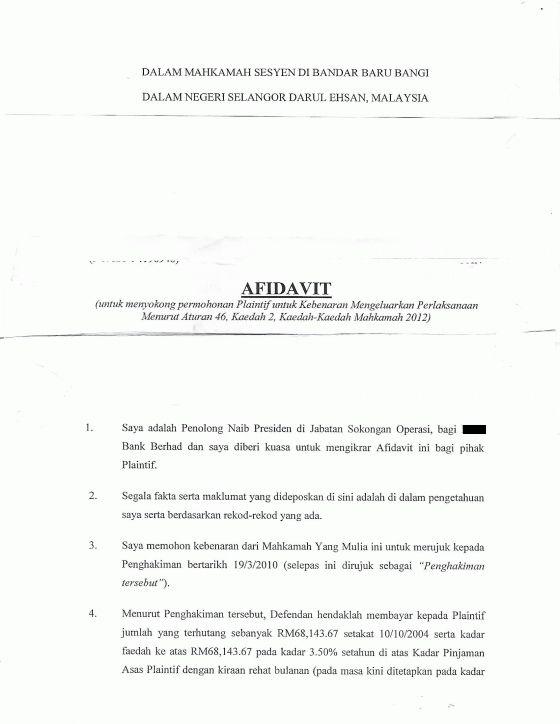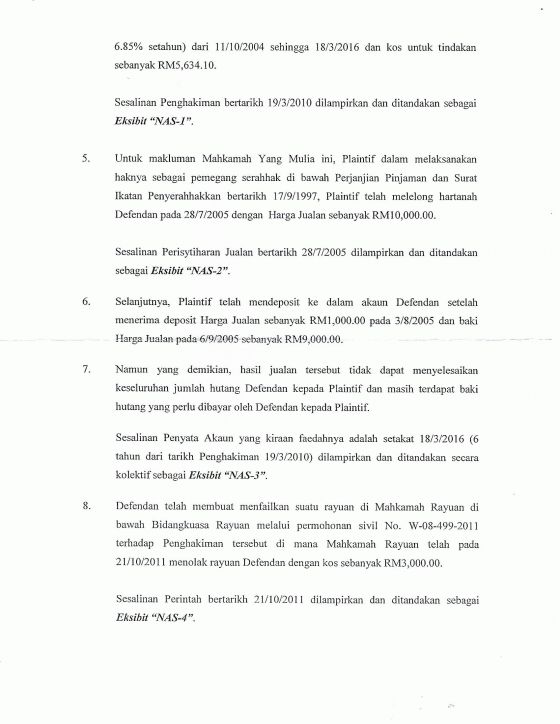 i  
To

Notalawyer and all the Avengers,

I received the "Notis Permohonan Untuk Kebenaran Mengeluarkan Perlaksanaan "
on May 4, 2018 at about 4pm to 4.30pm. The hearing of the permohonan is
on the same day, at 9am. Hence, it is too late for me to attend the hearing.

This is the third BN I received based on a judgement dated 19/3/2010. I, with the help
of Notalawyer, together with other Avengers, managed to set aside the previous 2 BN
with cost.

My questions :
As it is already 8 years since the creditor obtained judgement, creditor ought to 
    apply for leave to issue a new BN.
    On what good ground can i argue in Court, to set aside the Permohonan ?

All opinions and advice are welcome.
Personal Opinion

It is mainly for 3rd N.K., no other purpose.
Notice the two "atau" which is not functional after a period of 8 years.
Just lupid standard wordings.. wrongly used..
3 in 1 application..???
Jeff,

Meaning, the application for leave to issue new BN, right ?

harapan besar
answered on
May 6, 2018 at 02:00
by
vkpc
This RHB bank is really crazy.

Round 1.   RHB vs Avengers ->  RHB lost and paid costs of RM1,000  ( see paragraph 9 above )
Round 2.   RHB vs Avengers ->  RHB lost and paid costs of RM1,500  ( see paragraph 11 above )
Round 3.   RHB vs Avengers ->  let's see where this leads to....
Yes.. that is my personal interpretation of this bank's lawyer action. 3rd N.K.

I could be wrong.
To.
vkpc, jeff, notealawyer & all avengers,

This time, if we win, we are going to ask for higher cost,
in compliance to our country aimi for higher per
capita income. May be RM5,000.

Jeff,
feel free to give your opinions, unless you say so
to the contrary, whatever opinions you give, are 
considered as your own opinion.

Thank you all for giving your opinion.

harapan besar
U very greedy.. RM 5K..
U wanna bankrupt that Lawyer firm???

This is Makhamah Sesyen only ma.. 
Just make an application, only not suing u ma.. (yet).
Maybe 1K.. kasih chan for the lawyer, after she nearly cry as in kunta_kinti case.

note_a_lawyer just cried..!! kha kha kha

Personal Opinion (1 only)
I do not know if you can use the 6 years Limitation Act to try to set aside this application. Since this is  a fresh application/action after the JD status. U go MU law library, research, then come back teach me.. hehehe.

The reasons given by the esteem lawyer is not good enough to make an application (personal opinion) unless you paid cash to buy a notable asset of value or receive a recent inheritance (insurance/property/land/strike Jackpot??) from uncle or auntie. Buying cash for a superbike does counts. You have moneys to buy assets but not pay that creditor bank. Me oso jealous ma...

I recalled reading a case whereby a Farmer was working in a relative's farm. He was made a bankrupt for not settling his personal loan. Then came the crunch.. the relative died leaving him the farmland. Then JIM and JC came after him as he could not transfer the farmland to his name. Pls dun ask me that link.. my old kumputer kaput..!!
answered on
May 8, 2018 at 07:15
by
notalawyer
RHB Bank is supposed to give reasons in the affidavit why they cannot execute within 6 years.

Very funny, instead of giving the reasons, they give facts of the case.
Is this affidavit written by a lawyer or a clerk?
answered on
May 8, 2018 at 09:30
by
jebat
Harapan Besar,

Mana imej Notis Permohonan bank?
Any update on this matter?

Below are my personal view, and I stand to be corrected. I am not a lawyer, but a law graduate who has obtained a conditional pass for my CLP exam. However, please take note that I FAILED my Professional Paper which includes the Bankruptcy law, so please take my views with a with a pinch of salt. 

This is an application for leave to execute Judgement. Leave is required to execute the Judgment obtained more than 6 years ago (see. O.46 r.2 ROC 2012). 

Recently, Federal Court in Dr Shamsul Bahar Bin Abdul Kadir v RHB Bank Berhad [2015] 4 CLJ 561 finally settled the dispute and held that Bankruptcy Proceeding is a type of Writ of Execution thus if Judgement obtained more than 6 years, Judgment Creditor must have obtained leave of Court before they can issue a Bankruptcy Notice.  

Note:     The Judgment is not barred by the Limitation Act 1953, as S.6 (3) provided that the limitation period to enforce a judgement is 12 years (but Post Judgment Interest only up to 6 years). 

The content of the Bank's Application seems to be in order, as required by O.46 r. 3 (2) (b) ROC 2012, the Bank explained the reason of "delays" to support their application. The chronology in their Application is to show, in fact, there are no delays, but due to all this application and their respective outcomes caused the Judgment lapse for more than 6 years. Therefore, I believe that it is very probable that the Court will grant the leave application. 

I am not sure what is the game plan that you have in mind. However, if you want to fight the Bank until they finally give up – maybe you could "delay" the matter by filling other applications.

I noted that the Bank had filed the Leave Application in Bangi's Session Court. However, the first and second Bankruptcy Proceeding commenced in Shah Alam's High Court. Thus, you may consider filing a Transfer Application and Stay of Proceeding Application. I think it will be more convenient for you to attend Court in Shah Alam compare to Bangi. You can rely on the forum of convenience to support your Transfer Application. Also, the cause papers for the earlier case are all located in Shah Alam's High Court, as such, it will be more convenient for the Court. 

There is another point can be used for the Transfer Application and/or Application to Set-Aside. O.46 r. 2 ROC 2012 mentioned that Bank needs to apply leave from the Court. However, it does not specify which Court (i.e. The Court that granted the Judgement or any Court or must be a Bankruptcy Court (High Court) – if the Bank makes clears its intention is to initiate Bankruptcy Proceeding upon obtaining leave (See s. 88 of the Insolvency Act 1967 specific mention High Court shall have the jurisdiction in Bankruptcy Proceeding). Thus, Session Court might not be a correct court to grant the leave to execute Judgement – since the Bank in their application makes clear that their intention to commence another Bankruptcy Proceeding. 

If you only intended to oppose this Application – I think your stronger point will be res judicata and abuse of court process. I am not sure what is the basis that the Court dismissed the earlier Bankruptcy Proceeding. If it is on the technicality, this might not work.