1591 Views ⚫ Asked 1 Year Ago
asked on
Feb 5, 2017 at 17:19
by
fanniao
edited on
Feb 15, 2017 at 06:50
First Court Summons in September 2005, didn't attend. Judgement dated 30 September 2005, amount RM164,000. Bank auction (lelong) on 18 September 2012, selling price RM13,000. Lawyer firm send a Court Summons request to attend Sessions Court on 07 February 2017. Shall we attend? Please advice. 
Obviously helping the bank

It is a threat & intimidation, no fair play & justifications
Yes, Affidavit must file in before 13/2. At 7/2 hearing, the judge direct give order file in before 10/2, I said too rush as  I even not apoint Lawyer yet, and 9/2 is public holiday. Then she only postpone to 13/2.

The fees only for Sessions Court. 
answered on
Feb 9, 2017 at 12:43
by
vkpc
Your brother paid the lawyer already?
Lawyer already started work on the affidavit?
@vkpc
Part of payment.
Yes, because of time limit, they working today also for the case. Will send in Affidavit on time and after that send in Affidavit tambahan (if needed). 

Yesterday got one almost similar case, but the defendant lose. 
answered on
Feb 9, 2017 at 15:39
by
vkpc
Yesterday got one almost similar case, but the defendant lose.
Was the defendant represented by a lawyer?

Ask for a copy of the reply affidavit before the lawyer file it in,
say you want to double check it for correctness.
@vkpc
Yes, represent by Lawyer. 
OK, I will ask a copy for checking
answered on
Feb 9, 2017 at 16:31
by
vkpc
Your estimated lawyer fees may be as below :-

1. Oppose Application for leave (permission)   RM 30k
2. Appeal to High Court  RM 40k
3. Oppose Notice of Bankruptcy   RM 40k
4. Oppose Creditor's Petition  RM 40k

Total : RM 150k
Make sure your brother got enough cash to pay the lawyer.
@vkpc
If like this , better apply bankruptcy. 
Any one know this is calculate by daily interest or monthly interest? My math is too poor to calculate.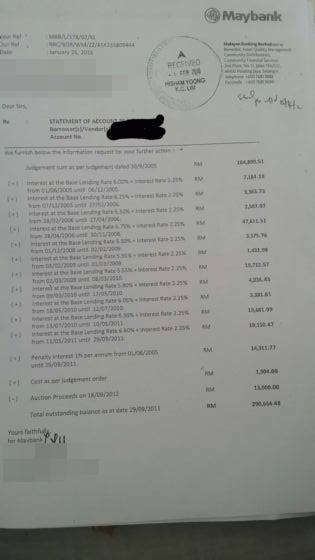 What is this?
What for?

The "tuntutan" ??
Statement of account 
Interest for 6 year after judgement date.