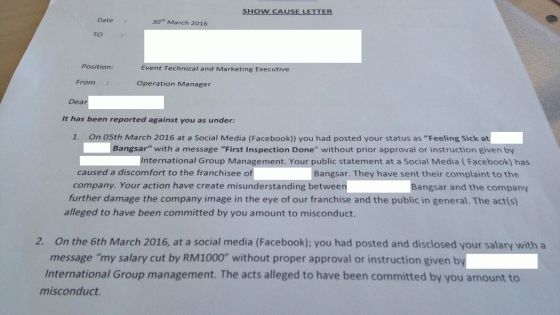 1 - While it was true I was close to the franchise premise and had tagged the franchise premise on the status, I was never really and physically there thus there should have been no misunderstanding arising, perhaps only false alarm. The prima facie for the case is too weak to be making it amounting to misconduct just because the franchisee had false alarm. This is because if I was really there, the franchisee would have notice my presence as it is a closed premise and such inspection, if was true would require me entering the premise with the acknowledgement from the people within the premise.
2 - I have never disclosed my salary in exact. Only stating that my current salary is RM1000 short of the previous one. Thus accusing me of disclosing my salary is only based on the assumption as no one knows how much I earn except me and my employer.
-----
Is this act of Facebook snooping by my employer an act of privacy invasion in first place? Few countries and US states have outlawed Facebook and media social snooping by employers as act of invasion of personal freedom of speech and life. HOW ABOUT MALAYSIA?